Description
Introducing the new Hit-Air H2 Vest. CE NF S72-800:2022 Certified, the first and only equestrian certification for air bag vests!
The Hit-Air H2 Vest, is certified to the Equestrian Standard NF S72-800:2022, the first and currently only standard, adopted in France, specifically for the manufacture of airbags for equestrian sports.
The H2 features the tailored style and fit of the Hit Air Advantage Vest with additional inner padding in the back, hips, neck and rib cage area.  It features our new All-In-one Adjustable Bungee-Saddle Strap combination.
Hit-Air is manufactured by MUGEN DENKO, LTD, the international leader and original air vest manufacturer with more than two decades of experience in airbag technology.   The Hit-Air H2 Airbag Vest is a "harness type" airbag, which is worn close to the body with the design allowing airflow to offer cooling while riding.  It employs a high-speed key ball mechanism which activates the CO2 cartridge.  Its versatile design makes it perfect for riders of all equestrian disciplines, fitting beautifully over a show coat, while offering protection for all disciplines, including Eventing, Endurance, Carriage and Western.  This vest does not require an additional safety vest, unless riding in USEA Cross Country Schooling or Competitions.
All vests come with the proper sized CO2, All-In-One Adjustable Bungee Lanyard/Saddle Strap Combo, Tool Kit for changing CO2 canister, and Custom Hit-Air Hanger for proper storage of your vest.
NOTICE: This vest is not ASTM approved. It must be worn over an ASTM approved body protector in competition where an ASTM approved body protector is required.
Canister: 50cc
If your horse is under 13.2 hh, please contact us prior to ordering
All Bungee Lanyard vests must attach to a Saddle Strap
See our How It Works page for more information on sizing and measuring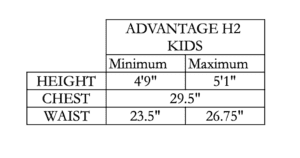 Additional information
| | |
| --- | --- |
| Color | Black, Navy |
| Connection Set-Up | All-in-One Lanyard & Saddle Strap, Western Coiled Wire Lanyard |