Frequently Asked Questions
About Hit-Air
Here is a list of our commonly asked questions. If you still find yourself looking for answers, please do not hesitate to contact us.
We understand the investment you are about to make in your safety and want to make sure all of your questions are answered every step of the way.
The air vest has been around for over 20 years. HIT-Air was the first air vest. However, there are new vests on the market that have not been through the years of testing as we have.
No! Each model of Hit-Air vest offers a different type of protection. The Hit-Air Original is our lightest weight model, weighing only 2.3 lbs (including the CO2 cartridge)! The Hit-Air Pro Plus and Hit-Air Advantage offer more advanced protection with larger airbags and faster inflation times. The Pro Plus and Advantage have different protection profiles with airbags concentrated on different areas. The images below show the paths of the airbags in all of our models.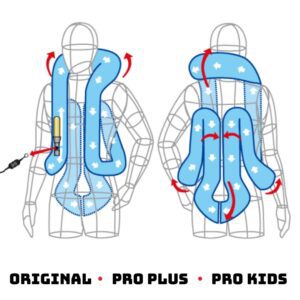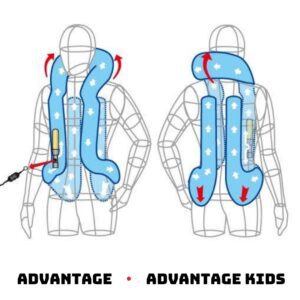 Check out our product pages to learn more about each model!
Our standard vest and lanyard lengths will work for all horses over 15.2 hh. For horses under 15.2 hh, we recommend Short length lanyards. If your horse is 13.2 hh or under, please contact us prior to ordering.
The vest is reusable. After the vest is inflated, simply deflate the vest by removing the CO2, squeezing out the excess air, and snapping back the airbags. Once the trigger mechanism has been reset and a new CO2 is installed, the vest is ready to be used again. At this time, there is not a way to reuse C02 cartridges.
For cross country, if you are using a pinny with ties, simply tie it a little looser. It is becoming more common for shows to use paper pinnies that are inserted into the new pinny holders made for air vests.
A tensile force of about 30kg (66 pounds) is needed to release the key ball to activate the airbag. Normally, riders will feel a strong tug when dismounting, signaling that they forgot to unclip. If you jump off without unclipping the vest will go off.
Hit Air has sold over 250,000 air vests and jackets. We have no reports of riders being hurt simply due to the vest inflating. It will feel like a tight hug, giving your body security in a fall.
We have inflated the vest around horses for years. The sound is fast so your horse and others will not give it a second thought. If your horse is one that stays by you after you fall, he/she will probably still be there. If they are the type of horse that heads back to the barn or heard, you will know where to find them.
No, you just replace the canister. We do recommend however, if you were to have a hard fall, six or more falls, that you send the vest to Hit Air to be serviced. We also offer annual servicing so we can check everything is operating as intended.
There is not an expiration date on the CO2s. Just ensure they are kept in a dry environment so the canisters will not deteriorate or rust. You can always check the weight of the canisters to be sure. You must use Hit-Air brand canisters as they are filled with the exact air and pressure required for proper function of the air vest. Using off-brand CO2s will void the 1 year manufacturer warranty as they will likely not inflate the vest properly in the event of a fall.
You can wear the Hit Air vest with or without a foam vest underneath. Most riders prefer the lightweight and convenience of the air vest vs traditional bulky foam vest.  However in eventing, the XC phase the associations require a foam body protector to be worn underneath.
We cannot guarantee protection in all circumstances. Unfortunately, if the rider never leaves separated from the saddle then the keyball can not pull out to activate the vest. 
Yes, all Hit-Air vests can be used in the rain!
While riding in the rain will not impact the function of your Hit-Air vest, be sure to allow your vest to fully dry before storing it after your ride. Vests should be hung to dry in a shaded area and all metal pieces, including your CO2 cartridge, should be wiped dry to prevent rusting.
Yes, you can take your Hit-Air vest and CO2 cartridges with you on the plane.
Air vests and CO2 cartridges can be in carry on or checked luggage, however it is up to TSA discretion. Please be aware, CO2 cartridges cannot be in luggage by themselves. They MUST travel with an associated air vest. You may bring your vest with the CO2 installed and up to 2 extra cartridges with the vest. It is important you tell TSA that it is a "life vest" as seen in the link below.​
https://www.tsa.gov/travel/security-screening/whatcanibring/items/co2-cartridge-life-vest
Since air vests and CO2 cartridges are not items regularly seen by 
TSA
 officers, some officers may be unaware of the 
TSA
 guidelines regarding CO2 cartridges and air vests. 
TSA
 officials have advised us that you should ask for a supervisor if you experience pushback from 
TSA
 officers when traveling with air vests and CO2 cartridges under the listed guidelines. Given this, we recommend allowing extra time to go through security checkpoints when traveling with air vests and CO2 cartridges.
If you are traveling internationally, there may be additional rules and regulations on transporting air vests and CO2 cartridges. We recommend contacting your airline about rules and regulations on transporting air vests and CO2 cartridges when traveling internationally.